May 11, 2023 at 09:00 AM
The Company's Editorial Director Linus Kaikai made the changes on Wednesday....
Apr 06, 2023 at 09:30 AM
Gachuri resigned from Citizen TV after more than a decade of service to join the Ministry of Interior where he is the Head of Communications....
Apr 03, 2023 at 04:31 PM
Citizen TV news anchor Yvonne Okwara has landed a new role at an International Organization....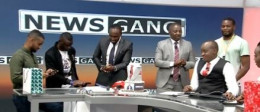 Mar 03, 2023 at 09:55 AM
The cake was cut, games were played and presents were handed to him in an emotional moment that nearly brought tears....
Feb 25, 2023 at 05:20 AM
Several Kenyan media personalities are doing great on our screens and on radio, yet they did not study journalism....
Jul 29, 2022 at 10:40 AM
"I think it is a very solemn spiritual role to play. It was the highlight of my career so far."...
Jul 26, 2022 at 11:01 PM
"An appreciation tweet for Yvonne Okwara and Eric Latiff. This is what journalism is all about" a tweep said....
Jul 21, 2022 at 11:37 AM
The debate will be held in two tiers; one for candidates polled below five percent and second of those polled above....
Dec 21, 2021 at 11:26 PM
A huge chunk of Kenyans are having, or have had, the best moments of their career lives in the media despite having not pursued journalism as their first degree...
Dec 16, 2021 at 12:38 PM
Okwara surprised the Kina actor during a live set to thank him for offering her the first job in media 17 years ago....
Dec 03, 2021 at 11:27 AM
Yvonne's new role follows the promotion of Jay Bonyo, who was the business editor, to the position of Managing Editor of the newly launched sister station, Ramogi TV....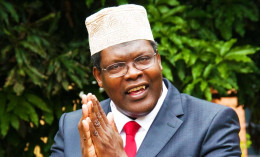 Oct 29, 2021 at 02:35 PM
According to him, the five journalists are honest and have good moral principles. Three of the journalists are from the same media house, while the other two are from other media h...
Oct 22, 2021 at 11:06 AM
Speaking during the News Gang segment on Thursday night, Yvonne while delivering her take reminded President Kenyatta to honor a promise he made regarding the Pandora Papers....
Mar 31, 2021 at 09:59 PM
Yvonne Okwara's desire to advance her career saw her move from Hot 96 to the Nation Media Group as a radio talk show producer at QFM....