Comedian Eric Omondi was on Tuesday, February 21 arrested after attempting to storm into Parliament buildings.

The celebrated comedian lead a group of shirtless muscular men donning black shorts in protesting the high cost of living.
"Bado mapambano, mapambano, bado mapambano, " the group chanted while carrying placards written 'high cost of living' high cost of electricity' 'stima juu, taxi juu.
Their efforts to storm the Parliament buildings were however thwarted by police officers manning the gate.
The officers lobbed teargas at the protestors forcing them to disperse from the Parliament buildings.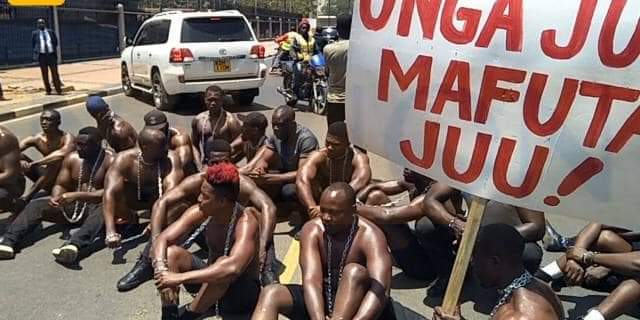 In a video seen by Nairobi Leo, Eric Omondi tried to resist being arrested but was overpowered and hurled into a police car.
The police also arrested some of the protestors who were accompanying Erick Omondi and loaded them in police cars.
This is not the first time Erick Omondi has staged a protest at Parliament buildings.
The comedian in February 2022 chained himself in a cube outside Parliament grounds. Omondi was trying to compel lawmakers to pass a bill that would get local music to get 75 percent airplay in the country.
He was also arrested in November 2021 at the same spot after leading demonstrations to pressure the National Assembly to pass laws on playing 75 percent of Kenyan music.