The Ethics and Anti-Corruption Commission (EACC) has arrested four, 4, suspects extorting money from members of the public in Nairobi (1), Kakamega (2) and Murang'a (1).
The suspects were processed at the respective EACC offices at the Headquarters in Nairobi, Bungoma, and Nyeri and subsequently booked at various police stations awaiting further action in accordance with the law.
Confirming these latest arrests by EACC, the Commission's Spokesperson Eric Ngumbi said that EACC has witnessed an upsurge in the number of citizens now resisting bribe demands by corrupt public officials.
"They are instead exposing the unscrupulous individuals to EACC, which has enabled timely disruption of the extortion bids and arrest of the offenders to face the law. However, some citizens are still advancing corruption by inducing public officials into vice," he said.
"The Commission urges all Kenyans to support the ongoing Government efforts to weed out corruption from the public service by desisting from the culture of trivializing the arrest of bribery suspects."
Those arrested
EACC on Friday evening arrested Maxwell Onyango Amarah, an official of Nairobi Water and Sewerage Company who had demanded and received Sh80,000 from a resident of Kilimani in Nairobi.
The bribe was as a condition and "facilitation fees" for reconnecting the water supply to her Apartment which he had disconnected.
"He was arrested at Antics Bistra Restaurant along Kindaruma Road in the Kilimani area where he had gone to meet the complainant to receive the demanded amount before reconnecting the water," Ngumbi said.
The suspect was processed at EACC Integrity Centre Police Station and later transferred to Kilimani Police Station where he is currently locked up pending further enforcement actions.
EACC has also arrested one Patrick Njue who has allegedly been extorting money from members of the public by selling fake Kenya Defence Forces (KDF) recruitment letters, for amounts ranging from Ksh 400,000- 500,000.
He was arrested in Sagana on Thursday and processed at the EACC Central Regional Office in Nyeri.
In one case, the suspect had demanded Sh450,000 from the complainant who paid Sh300,000 on 11th September 2023, and was issued with a fake recruitment letter.
The complainant was to pay the balance of Sh150,000 by 15th September 2023 in order to be "cleared to sign all remaining admission forms" in readiness for "direct recruitment" to KDF.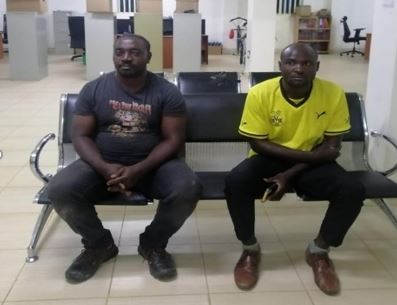 "At the time of the arrest, EACC intercepted two other victims who were about to pay Sh500,000 each for the same fake KDF recruitment letters," he said.
"Following this arrest, the Commission has received several other complaints from victims who have allegedly lost millions of shillings to the suspect in pursuit of admission of their sons and daughters to KDF or other security forces. He is alleged to be part of a syndicate that has engaged in such activities for years. Any person with related allegations against the suspect may contact or visit the nearest EACC Office."
They were booked at Makuyu police station in Murang'a County and their vehicle was detained at the station for failure to produce ownership documents.
Another person arrested is a KPLC official George Otieno Onudi and Electrician Castro Innocent Obonyo who demanded a bribe of Sh 50,000 from a resident in Kakamega Town to reconnect the complainant's electricity supply which they had disconnected.
The suspects, who were apprehended on Friday night after receiving the demanded bribe amount, were escorted to the EACC Bungoma Regional Office where they were processed. They are currently detained at Bungoma Police Station pending further legal action.