Topic: Communications Authority of Ke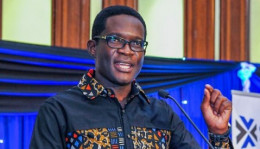 Sep 23, 2022 at 01:52 PM
The Communications Authority has said that over 287,000 SIM cards have been switched off ahead of the October 15 registration deadline....
Jun 24, 2022 at 02:57 PM
The Communications Authority has deactivated over 124,000 SIM cards....
Apr 10, 2022 at 10:04 AM
Aden Duale claimed that ongoing sim card registration exercises across the country are a hidden plot by the Communications Authority to interfere with internet connection in the co...
Apr 09, 2022 at 09:48 AM
The former IEBC CEO noted that users of various service providers can know if they're duly registered by dialling *106#. ...
Dec 23, 2021 at 06:32 AM
Chiloba stated that the review was prompted by the desire to make call rates affordable to Kenyans....
Sep 28, 2021 at 07:45 PM
Former IEBC CEO Ezra Chiloba has been appointed the Director-General of Communications Authority of Kenya for a 4-year term. ...
Apr 28, 2021 at 12:26 PM
Mt Kenya TV has been ordered to go off-air by the Communications Authority of Kenya....
Feb 09, 2021 at 02:45 PM
The ICT Cabinet Secretary, Joe Mucheru expressed fears about the possible increase in the volume of cybercrime in the country. ...