Topic: Ugandan President Yoweri Museveni
Jun 01, 2023 at 09:46 AM
"Nobody will move us. We should be ready for a war. Remember war is not for the soft," Museveni said....
May 30, 2023 at 08:50 AM
"I have directed my National Security Council to evaluate the implications of this law on all aspects of U.S. engagement with Uganda."...
May 24, 2023 at 02:32 PM
"I give the Turkana population, six months to implement my directives....
Apr 17, 2023 at 08:00 AM
IGAD on Sunday held a virtual meeting where they called for an immediate cessation of hostilities between the warring parties in Sudan....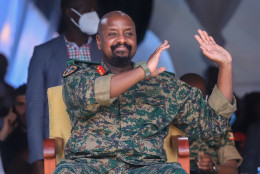 Mar 16, 2023 at 09:04 AM
General Muhoozi has of late made controversial statements over his interest in succeeding his father....
Feb 27, 2023 at 12:47 PM
The Supreme Court on Friday, February 24 dismissed an appeal by the government that sought to bar the registration of LGBTQ+ organisations in Kenya....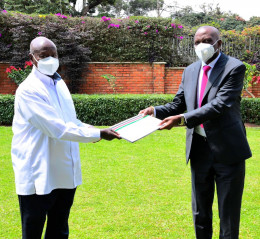 Jan 28, 2023 at 01:23 PM
"I can tell you it's rocky and it's about to get nasty," he stated...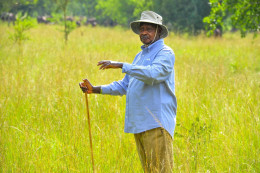 Jan 02, 2023 at 03:24 PM
"The only time I entered a Court of Law was in 1956," Yoweri Museveni....
Oct 06, 2022 at 11:13 AM
President Ruto and Prime Minister Abiy are expected to hold bilateral talks and oversee the launch of Safaricom in Ethiopia....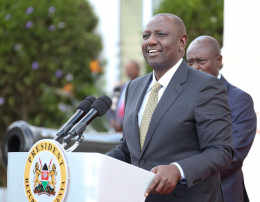 Oct 06, 2022 at 09:01 AM
After the visit to Uganda, the President will jet out to Tanzania the following day, Monday, for talks with President Samia Suluhu....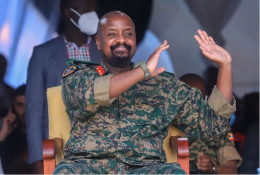 Oct 04, 2022 at 01:33 PM
"It wouldn't take us, my army and me, 2 weeks to capture Nairobi," Muhoozi Kainerugaba....
Oct 04, 2022 at 09:57 AM
Muhoozi Kainerugaba was born in 1974 in Dar es Salaam, Tanzania....
Oct 03, 2022 at 08:03 PM
Museveni's son Muhoozi Kainerugaba has caused a storm on Twitter after controversial tweets about capturing Nairobi....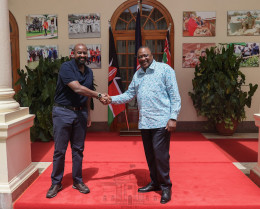 Aug 17, 2022 at 04:57 PM
Muhoozi and Uhuru have been close friends for some time....