May 25, 2023 at 11:14 AM
Itumbu has now given NMG 48 hours to heed his demands or he moves to court to pursue justice....
Jun 30, 2022 at 10:08 AM
He worked for Nation Media Group as managing editor for Daily Nation....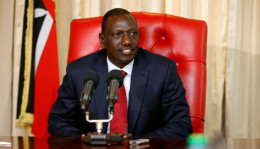 Jul 14, 2021 at 01:58 PM
This comes a few days after Odinga outlined his 14-point economic vision plan to make Kenya the African continent's headquarters for global business....
Jun 30, 2021 at 05:54 PM
In our segment of #KenyaWomenSeries, we feature, Pamella Makotsi Sittoni. A journalist, media leader, and communication expert who has purposely pursued her passion in journalism. ...