Sep 10, 2022 at 10:13 AM
Junet Mohamed was defending himself against allegations of being involved in the KEMSA scandal....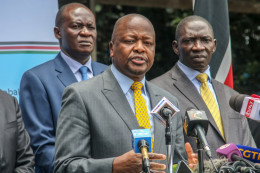 Feb 15, 2022 at 04:28 PM
KMPDU also faulted Kagwe for sending KEMSA bosses and other employees on compulsory leave contrary to terms and conditions of employment. ...
Nov 09, 2021 at 09:29 AM
Furthermore, Judge Kebiria Ocharo overhauled the decision by the KEMSA board to discharge more than 900 staff and to eye on new employees....
Nov 04, 2021 at 12:43 PM
The National Youth Service is set to take over operations at the Kenya Medical Supplies Authority (KEMSA) on a caretaker basis. ...
Nov 02, 2021 at 11:16 AM
This is after the State Corporations Advisory Committee (SCAC) finished a probe into the state agency and recommended the sacking of nearly half of the Kemsa staff. ...
May 01, 2021 at 12:21 AM
KEMSA is under probe over various scandals that have resulted to lose of billions of taxpayers money. ...
Apr 29, 2021 at 02:50 PM
Kemsa allegedly distributed toxic ARVs as Kenya dealt with a shortage of the drugs....
Apr 29, 2021 at 12:42 PM
Embakassi East MP Babu Owino addressed Jubilee Vice-Chair David Murathe's involvement in Kemsa procurement scandal....
Apr 23, 2021 at 09:54 AM
Murathe has been trending for the past few hours after he was linked to one of the companies being investigated for involvement in the Kemsa scandal....
Apr 23, 2021 at 09:17 AM
The MPs were angered by Murathe's decision to skip the probe and have issued fresh summons to the Jubilee vice-chair....
Dec 18, 2020 at 11:41 AM
Some of the drugs given to patients in top public hospitals are unregistered while others are toxic. Kemsa was named among the distributors giving Kenyans bad medicine...
Dec 11, 2020 at 11:19 AM
MPs shocked after hearing how a 27-year-old woman landed a Ksh4 billion tender from Kemsa. The woman walked into Kemsa at 9am and by afternoon she walked out with the tender...
Dec 02, 2020 at 09:33 AM
Sakaja has refuted the claims stating that he is not linked to the alleged company in any way....
Nov 12, 2020 at 10:37 AM
Kemsa explained to MPs how taxpayers were duped in the scandal involving PPEs The parastatal made shady deals that saw Kemsa making losses of Sh2 billion...
Oct 03, 2020 at 01:15 PM
MPs demanded a thorough probe into all companies that benefitted from the Kemsa billions of supplies. ...